The man is gone, but the sprit lives on.
Leo Fender - 1909-1991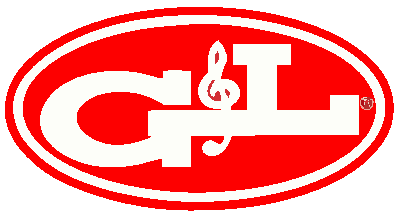 Do you know about G&L Guitars? If you play electric, you should!
The "L" in G&L is Leo Fender. He started the company in the late 1970s after famously selling his original company to CBS in 1965. Leo Fender passed away in 1991 but before his death he arranged for the operation to be overseen by John C. McLaren of BBE Sound. Leo's wife Phyllis is the honorary Chairman of the company. G&L continues to make electric guitars and basses the way Leo Fender would have wanted them ot be made - and it shows.
Ironically, after the CBS transaction, Leo Fender lost the rights to use the original names of the guitars he invented including the Telecaster and the Stratocaster. (These model names are now registered trademarks of Fender Musical Instruments Corporation, no relationship to Leo Fender or his estate.)
So, as you browse through the impressive instruments below, keep this in mind: If you're thinking Telecaster, look at the G&L ASAT model.; if you're thinking Stratocaster, look at the Legacy models. Either way, you'll be impressed by the quality and playability.
One of the great things about G&L is that they welcome custom orders - and they ask very reasonable upcharges to get exactly the instrument you want. We would be happy to custom-order any G&L instrument to your specifications.
We think G&L guitars are superior in materials, craftsmanship and playability to today's Fender-brand instruments - at comparable prices! Come see if you agree.
Current Inventory
As of June 2, 2016, we have the following G&L guitars and basses in stock. Click on a model or just scroll down to see descriptions and photos of each instrument.
Legacy in Fullerton Red - Pictures coming soon!
The specs:

Swamp ash body with blonde finish
Quartersawn maple neck with maple fretboard
Modern 'U'-shape neck profile
"Old Leo Spec" body depth (1-5/8 inch mill depth)
Vintage satin neck
Vintage-style frets

The first thing that impressed us about this guitar was how light it is. Weight can go either way with ash but this ASAT, with its thinner-than-usual Old Leo Spec body and a relatively light piece of ash, is just so comfortable to hold and play.

This is the second ASAT we've ordered that is modeled closely after the vintage Tele's of the 1950's. The subtly-hued blonde finish (which, by the way, is difficult to reproduce accurately in these photos) is not something you'll find on many modern instruments. And the chunkier U-profile neck with vintage-style frets and vintage satin finish sits nicely in the left hand, especially in first position.

The ASAT Classic Alnico model stays true to the sound of vintage Tele's with its Alnico V single-coil pickups.

Plug this baby in and you can stand for hours ripping those twangy 50's vintage Tele tones!

We include the very nice traditionally styled (and US made!) G&L rectangular hard case.
The specs:

Swamp ash body with clear red finish
Double-chambered body with f-hole
Quartersawn maple neck with rosewood fretboard
Modern classic neck profile with 1-11/16 inch nut width
MFD single-coil bridge pickup
AP4285B P-90 neck pickup
4-ply tortoise pickguard

As soon as this guitar arrived, the consensus was WOW! What a pretty guitar!! Once again, the folks at G&L have done a stellar job with this semi-hollow ASAT-with-a-bite.

The lightweight body has a gorgeous clear red finish over the swamp ash. The modern classic profile neck with 1-11/16 inch nut gives the player a generous amount of space for both the left and right hands.

Sonically, the bridge pickup can cut through like one would expect but the real treat is the snarling bite that you can achieve with the P-90 at the neck - great for warm jazz, blues, or grungy rock 'n' roll. And don't forget the beautifully-balanced middle position which incorporates sonic elements of both pickups.

Our G&L guitars are flying out the door, and for good reason. Come in and check this one out before it's too late.

We include the traditionally styled (and US made!) G&L rectangular hard case.
The specs:

Ash body with Black Burst finish
Quartersawn maple neck with maple fretboard
Modern classic neck profile
Tortoise shell pickguard with black knobs
Seymour Duncan model TB4 'JB' humbucker at bridge

This is the first Legacy HB that we've ordered for store inventory. One of our customers special-ordered one and we liked it so much we decided we would get another built to very similar specs!

The Black Burst finish starts off black at the edges and fades to a subtle semi-transparent greenish-tinted charcoal towards the middle, highlighting the figure of the Southern swamp ash body. The quartersawn maple neck with its generous 1-11/16 inch nut width contrasts nicely with the dark body.

The Alnico single-coil neck and middle pickups deliver that classic 'Strat' tone. For that extra kick, the Seymour Duncan TB4 humbucker at the bridge will certainly get the job done - high output, great for metal or rock. You also get a mini-toggle coil tap switch to put the humbucker in single-coil mode if you want.

As with all our G&L instruments We include the very nice traditionally styled (and US made!) G&L rectangular hard case.
The specs:

Tobacco sunburst finish
Alder body
Maple neck with modern "C" profile
Rosewood fretboard with medium-jumbo frets
1-11/16 inch nut
Dual Fulcrum Vibrato bridge with brass saddles

Another nice addition to our US-made G&L line! This alder-bodied, tobacco sunburst Legacy will give you that classic single-coil sound.

The modern C-profile neck is a bit wider than normal (1-11/16 inches at the nut) and with its slim profile and light satin tint finish it plays very smoothly. The whammy bar and the G&L "DFV" bridge allow for heavy bending without pushing the guitar out of tune.

We include the very nice traditionally styled (and US made!) G&L rectangular hard case.
The specs:

Sonic Blue finish
Alder body
Maple neck with modern medium-C profile, 12 inch radius
Rosewood fretboard
1-5/8 inch nut
Two MFD L-series humbucker pickups
Tri-Tone active/passive electronics

This is our first G&L bass and we were immediately impressed by the top-notch materials, great-sounding pickups and the fast, easy-playing neck. The punch and power of the MFD humbuckers really makes this bass stand out from the crowd.

The Tri-Tone electronics give you three mini toggle switches for an awesome variety of tones.

This bass is a real winner. You have to come try it!

We include the very nice traditionally styled (and US made!) G&L rectangular hard case.
---
Home | About Us | What's New? | Clearance | Instruments
Sheet Music | Rentals | Lessons | Repairs | Inquiries
The Minor Chord
80 King Street
Littleton, MA 01460

Phone: 1-978-486-0112
© 2016 The Minor Chord. All rights reserved.