What's The Problem?
Many of the most common and popular musical instruments are delicate devices made of natural wood. Instrument builders use wood for its pleasing resonance, but all varieties of wood expand and contract when the amount of moisture in the air goes up and down. That can cause damage to the instrument when internal stresses caused by the expansion or contraction cause glue joints or the wood itself to rupture.
There are steps you can take to avoid damage to your instrument. In general, you want to keep the wood from expanding and contracting, and you do this by providing a stable amount of environmental moisture. That means you add moisture when the air is dry, and remove moisture when the air is damp. If you visit our store during the colder months you will see that we have several large humidifers running constantly to provide this moisture. During the summer, we sometimes have to use a de-humidifier to remove excess moisture from the air.
A note of caution, however: Adding too much moisture can be as bad or worse than not having enough. So you must be very careful when using a humidifying device that you're not over-doing it.
You can avoid some damage with simple common sense --
Don't leave your fine instrument in the cellar during the summer months.
Don't store your instrument in an unfinished or uninsulated attic, where temperature and humidity changes are extreme.
Don't leave your instrument in a car where extreme heat or cold can damage it.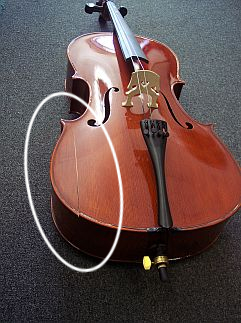 Don't let this happen to your instrument!