Where are we?
We are at 80 King Street (MA Route 2A) in Littleton, MA only half a mile west of Exit 79 (old exit 30) on Interstate 495. We are right across the street from St. Anne's church and close to Littleton High School and Indian Hill Music Center.
About our prices
Customers often think they have to pay extra at an independent music store - but not so!
Our prices are competitive with online and chain retailers, especially when you remember that our instruments come with gig bags or cases - essential to protect your investment but often extra-cost items at the other stores. We also set up and adjust each instrument carefully before we sell it so you know it will play its best.
What do we do?
We stock over 100 different models of acoustic guitars, electric guitars, electric basses, banjos, mandolins, ukuleles, and digital pianos from respected manufacturers including Almansa, Furch, G&L, Ibanez, C. F. Martin, Savannah, Seagull and Yamaha. We stock the area's largest selection of Meinl hand percussion. We sell quality, affordable student band instruments and can handle adjustments and most repairs in our own workshop. We carry an extensive selection of woodwind reeds; strings for most fretted and orchestral string instruments; instrument maintenance supplies; student and professional mutes for brasswinds; and other instrument accessories.
We are particularly proud of our used and vintage department, Zach's Attic. Zach is our store manager and head instrument buyer. He hunts down the top quality used and vintage instruments that we offer in the "Attic". From affordable workhorse instruments to vintage showpieces, we guarantee that each instrument in the Attic is an excellent value.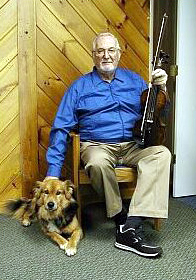 Our late founder and former owner Bill Brown with his fiddle and faithful friend, Isaac Dog
In the Minor Chord studios, college and conservatory educated instrumental teachers offer lessons on acoustic and electric guitar, upright and electric bass, piano, trumpet, trombone, euphonium, tuba, flute, clarinet, saxophone, violin, and banjo. Our teachers offer no-cost, no-obligation trial lessons. (Please note that some of our lessons are taught online for the forseeable future because of the COVID-19 pandemic.)
Limited in person lessons now availible as an option.
For beginning students, rental guitars and basses can sometimes be hard to find. The Minor Chord rents acoustic and electric guitars, electric basses, and practice amplifiers to help you get started without having to make a major investment in an instrument. When you are ready to take that step, we credit your rental payments towards your instrument purchase.
We want to make The Minor Chord the choice in the Boston Metro West area for musicians like you. If you have any questions, or if we can help you in any way, please come by the store, call us at 1-978-486-0112, or click here to email your request.