80 King Street · Route 2A · Littleton MA 01460 · (978) 486-0112 · I495 Exit 79 (Old Exit 30)
Frequently Asked Questions
How old should my child be?
Parents frequently ask us how old their child should be when starting music lessons. There is no single answer - it depends on the child's emotional and physical stage of development, as well as the instrument they will be studying.
Most young students are ready to start private lessons around the age of 7 or 8 when they are old enough to focus their attention on specific tasks and skills.
Slightly younger students are sometimes ready for private lessons, but parents should plan to attend each lesson so that they can reinforce the lesson content at home during supervised practice sessions.
Pre-school students will benefit more from group classes that introduce them to basic music concepts and give them opportunities to practice skills such as rhythmic physical motion. We suggest local programs like Music Together of Assabet Valley and Footnotes Music.
The prospective student's physical size and development is very important when deciding whether to begin lessons. For example, a physically small student may be able to manage a fractional-size violin or ukulele but may not be ready for even the smallest guitar. School band programs usually begin in the 4th or 5th grade because younger students' facial muscles do not have the strength required for wind instruments.
Our teachers will be happy to talk with you about your child's situation. Just call us or use our Ask Us! page to get started.
Do you have lessons for adults?
Absolutely! Students at The Minor Chord come from all ages and stages of life.
We're happy to teach students with any (or no) background in music. Perhaps you're an experienced musician interested in studying a new instrument, or maybe this is your first foray into music altogether.
Unlike many formal, conservatory-style music schools, the teachers at The Minor Chord are very flexible. They want to be your coach and are happy create a program to meet your interests and goals.
Sign up for a free trial lesson to sit down with a teacher and talk about what you'd like to get out of your learning experience! To get started, call the store or send us a message here.
Do you offer group lessons?
At this time, we do not offer group lessons for instrument instruction. Making music is a very personal experience. Our students have different goals, different strengths and challenges, and make progress at different rates.
Some of our teachers will accept students on a semi-private basis, for example a parent and a child wanting to learn together. Call or send us a message here to tell us about your situation.
The Minor Chord occasionally sponsors workshops and seminars for children, adults, or both. These fun, casual events can be a great way to introduce yourself or your child to music, or to expand your musical knowledge. To receive notifications about upcoming workshops and seminars sponsored by The Minor Chord, sign up for our Backstage Broadcast e-mail newsletter here.
How do I choose an instrument?
How do you or your child choose an instrument to play? At The Minor Chord, we try to make this important step as easy as possible.
If you don't already have an instrument picked out, we can help. We're happy to set up a time for you or your child to visit and try any instrument from an electric guitar to a trombone! It's best to arrange instrument trial sessions in advance. Just call us at 978-486-0112 or send us a message here.
Our teachers' strongest recommendation is to go with the instrument you (or your child) are most enthusiastic about. Playing an instrument is fun, but it's also a lot of work! It helps to begin your musical journey on an instrument you're excited to play.
Once you have chosen an instrument you still may not want to invest in purchasing one until you are sure you enjoy playing it. We rent most beginner-level instruments at very affordable prices, and our rent-to-own program gives you substantial credit towards the purchase of any instrument at our store. For more information, check our Rentals page.
Not sure if private lessons are for you? Take a free trial lesson on us. Get to know our teachers and see how lessons can get you started on the right track - or bring your playing to a new level.
No instrument? No problem! If you don't have an instrument yet, we can loan you one.
For more information about our trial lesson program, just call the store or use our Ask Us! page.
Make Music With a Master (and have tons of fun!)
Watch a short video about our lesson program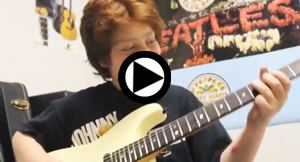 Click here to meet our teachers
At The Minor Chord, we have one goal: To help you experience the thrill of making music like you want to make it.
Don't get us wrong - our teachers instill fundamental techniques that will lead you towards skilled and proficient musicianship. But unlike some stiff, conservatory-style programs, where you study what the teacher wants you to study, we believe that mastery of these fundamentals can grow from the enthusiasm that you naturally bring when you are learning music that you want to play.
Think of your Minor Chord music teacher as your 'music mentor' - someone trained and experienced in their craft, but - most importantly - someone who wants to see you have fun making music!
We're excited to show you how music lessons should be -energetic, satisfying, and a good time through-and-through!
Instruments and Skills You Can Learn at The Minor Chord
The experienced musicians who teach in our studios represent a broad range of instruments and music styles including:
Acoustic guitar (classical, popular and bluegrass)
Electric guitar
Upright bass
Electric bass
Ukulele
Banjo
Piano and Keyboards

Violin and fiddle
Flute
Clarinet
Saxophone
Trumpet
Trombone and other low brass
Songwriting and arranging
How Lessons Work
How long are lessons and what do they cost?
Tuition is $40 per week for a weekly half-hour lesson. We find that a half hour is enough time for most students to demonstrate what they've worked on in the previous week, get some coaching from their teacher, and learn something new for the following week.
A weekly schedule is effective in keeping your musical effort in the front of your mind, and in creating weekly deadlines that encourage between-lesson practice.
Some of our teachers can arrange longer lessons for advanced students.
When are your lessons available?
The Minor Chord studios are open weekdays and Saturdays during regular store hours. The schedules of our teachers vary. Some teach only one day per week; others are here every day.
Most of our teachers begin lessons in mid-afternoon and teach into the evening. These times work well for school-age students and working adults. Some of our teachers offer daytime lessons for retirees, parents with kids in school, or adults who work in the evening. Call the store or send us a message here to ask about a particular teacher's schedule.
It's easy. Call the store and we can help you choose a teacher and lesson time. When you come in for your first lesson you will pay for the first four lessons and fill out a simple registration form so we know how to reach you. That's it!
Is there a long-term commitment?
No! The Minor Chord lesson program does not operate on a semester system. We are much more flexible. You can sign up for lessons at any time, and you can end your commitment whenever you wish.
That said, we ask that you begin your lesson experience by signing up for four lessons. We request this because it can be difficult to gauge progress until you've been learning the instrument for about a month. You'll want to give yourself enough time to see some progress!
Once you sign up, you are expected to attend your lesson each week and you will be charged weekly tuition. Your weekly financial obligation for tuition ends when you tell us to release your lesson slot. You can do this at any time.
What are your payment and cancellation policies?
You are responsible for attending your lesson and paying tuition every week.
You pay for lessons on a monthly basis at the beginning of each month. Tuition can be paid in-store with cash, check, or credit card. For your convenience, we also offer automatic billing via credit card should you prefer to make an automatic payment at the beginning of each month. We will refund tuition for unused lessons when you tell us to release your reserved lesson time.
We understand that from time to time unforeseen circumstances arise and you may find it necessary to cancel your lesson. As a courtesy to our teachers and other students, you should always call us at least 24 hours in advance if you will not be attending your lesson.
We offer our students two missed lessons per year for vacation and sick days, free of charge. The credit for these missed lessons is transferred to the following week. Because our teachers have reserved your lesson time for you, we must bill you for missed lessons beyond these two.
With proper advance notice we can often make arrangements for a make-up lesson. Makeup lessons are subject to a teacher's schedule and may not be available in all situations. Makeup lessons should be arranged within a week of the missed lesson and can be taken either before or after the missed lesson time.
Store discount for students
As an extra bonus we offer our students a 10% discount on method books, sheet music and all accessories. Just remind us at the register that you are a student.