80 King Street · Route 2A · Littleton MA 01460 · (978) 486-0112 · I495 Exit 79 (Old Exit 30)
Effects Pedals
The sound of an electric guitar or bass is created not just by the instrument itself, but by the entire electronic chain between the instrument and the listener.
The most important electronic component, of course, is the amplifier. Tube amps have their own distinctive sound, and a player can change that sound from clean to really dirty by the degree to which they push the amp. Solid state amps can't be pushed like that, but many have extra circuitry to produce a range of special effects like distortion, reverb and more.
But amps can't do everything. If you're looking for that special distinctive sound, you will need to look at standalone effects pedals. Inserted between your instrument and your amp, these pedals can deliver effects - even during a live performance - that otherwise would require post-production tweaking in a recording studio.
Here are the effects pedals that we usually have in stock here at The Minor Chord. Because the sounds each model generates is hard to describe in words, we've provided video demonstrations for some of them.
MXR
MXR M104 Distortion +

Simple and straight-forward distortion pedal, output and distortion controls, hard rock to blues, best-seller!


Click for demo
MXR M102 DynaComp

Compressor, rich sustain, tight together sound, percussive clicky attack, output and sensitivity controls.


Click for demo
MXR M234 Analog Chorus

Lush analog layering, rich textures, rate/level/depth/low/high controls.


Click for demo
MXR M68 Univibe

Chorus/Vibrato, separate modes for each, swirling Leslie speaker tones, thick vibrato twang, speed/level/intensity controls.


Click for demo
MXR M101 Phase 90

Classic outer space swirling effect, one simple speed knob, from subtle to swooshing.


Click for demo
MXR M169 Carbon Copy

Analog delay, rich warm tone, 600ms delay time, modulation, slap echo to long and drawn out sounds.


Click for demo
MXR DD25v.3 Dookie Drive

Captures Billy Joe's drive tone from his legendary Green Day 'Dookie' album, mix and blend two amps together, scoop button, output/gain/blend/tone controls.


Click for demo
MXR M305 Tremolo

Six different tremolo wave forms, classic to new sounds, shake-it-up! Speed/gain/depth controls.


Click for demo
MXR M300 Reverb

Six distinct reverb styles, hi-fi analog dry path, surf's-up! Spring to studio plate and beyond, decay/tone/blend controls.
Dunlop
Dunlop Original Crybaby Wah GCB95

Hugely popular wah-wah pedal, tone sweep from bass to bright. Fasel inductor, focused highs, an aggressive wah. Longtime best-selling unit.


Click for demo
Dunlop Crybaby Mini Wah GBM95

Smaller version of classic wah pedal, 3 gain settings: low/vintage/GCB95. Feels different under foot than the full size version, fits with other smaller pedals easier on pedal boards.


Click for demo
Dunlop Hendrix Crybaby Wah JH1D

Must have for the Hendrix fan, based on Jimi's Thomas Organ wah, sweeter and more expressive tone than a standard wah, extra white rubber ring on bottom.


Click for demo
Dunlop Volume (X) DVP3

Sturdy volume pedal with smooth swell, no jumps in volume. Fully adjustable rocker tension, non-slip tread, tuner output.

Also very useful for the keyboard player - can be a volume or expression/FX controller pedal!


Click for demo
Ibanez
Ibanez TS9DX Turbo Tube Screamer

Four levels of overdrive: TS9/+/Hot/Turbo each increasing in crunch. Drive/tone/level controls. Warm and articulate like TS9 with higher gain.
Ibanez TS9 Tube Screamer

Classic overdrive, drive/tone/level controls, mimics a tube amp turned up, warm and articulate.
Other Brands
Vox Lil' Looper

Play along with yourself! Record and re-record over your tracks, 2 independent loops, balanced mic input for vocals, 90 seconds recording time in each loop, built in effects.
KATT-Z Katt Furr

A store favorite handmade in Shrewsbury, MA. 70's style fuzz distortion, furr and level controls, mini toggle switch for either muddy and warm or articulate and bright. Sensitive to guitar volume and playing dynamics, great value at $135.00 for a boutique handmade pedal.


Click for demo
D'Addario Pedal Tuner

Chromatic tuner, large easy to read colorful display, true bypass, slim casing.
JangleBox

Compression/Sustain, gain and attack knobs, dark/normal/bright mini toggle switch. Boost your volume, clean chimey ring, nashville bends, chicken-pickin' riffs, rhythmic sustain.


Click for demo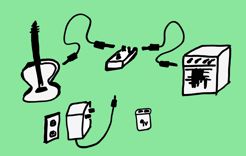 Connecting Your Effects Pedal
Your effects pedal goes between your instrument and your amp. You'll need a second cable to do this. Plug one cable between your instrument and the input jack of the pedal. Connect the second cable between the output jack of the pedal and your amp.
Then you'll need power. Standard pedals run on 9 volts DC. Most have a place inside the box for a square 9 volt battery. But if you don't want to worry about batteries running low during a performance, get a power adapter. These plug into a wall outlet and deliver 9 volts to the pedal through a cable. Before you plug it in, check that the power jack on your pedal to make sure the voltage it requires matches what the adapter produces!
What If I Have More Than One Pedal?
If you have more than one pedal, use more cables and connect them in a daisy chain from your instrument to the input of the first pedal, from the output of that pedal to the input of the second pedal, and so forth. Connect the output of the last pedal to your amp.
The order in which you connect the pedals will make a difference in the sound you get. Remember, the sound is processed in the same order in which the pedals are linked. For example, if you have a delay pedal first (which creates an echo effect) and then a distortion pedal, your rig will generate echos and then add distortion. That will sound different than connecting them the other way, which will create distortion and then apply echos to the distorted signal.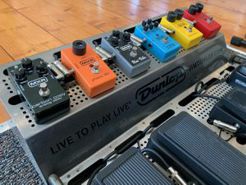 My Rig Is Getting Messy!
Once you collect more than one or two pedals, the signal and power wiring starts getting messy. Not only that, but you'll find yourself chasing the pedals all over the floor during a performance.
The answer is a pedalboard. You can build one yourself or buy a predesigned board like the one in the photo. Fasten all your pedals to the board, wire up the signal path and power, and your life gets a lot more organized. There are special short signal cables for connecting your pedals on a pedalboard, and special power adapters that can supply multiple pedals on one daisy chain cable.
Have More Questions?
Curious about a particular pedal? Looking for advice about what pedals best fit your playing style? Questions about how to set up a pedalboard?
If you are puzzled, chances are others are too. We'd love to help answer your questions. Use our Ask Us page to send them to us.